Thresholds' Research on Virtual Reality Job Interview Training Published in Psychiatric Rehabilitation Journal
The Psychiatric Rehabilitation Journal published a study – the Molly study – about the efficacy of Virtual Reality Job Interview Training (VR-JIT) for unemployed individuals with serious mental illnesses. Through research programs at Thresholds, led by our Vice President of Research Lisa Razzano, Ph.D., this study found that VR-JIT provided needed exposure and practice with job interviewing in a safe environment, having the potential to enhance the Individual Placement and Support (IPS) model of employment for these individuals.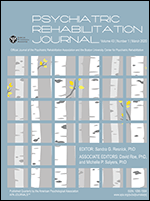 Individual Placement and Support (IPS) is a model of supported employment for people with serious mental illness (e.g., schizophrenia spectrum disorder, bipolar, depression). IPS supported employment helps people living with behavioral health conditions work at regular jobs of their choosing. 
This study shows that evidence-based practice like IPS is still effective, but also shows that there are ways to enhance IPS without changing the model or compromising fidelity. Online job interviews are common practice in the employment recruitment process, which was not the case when the IPS model was first developed. 
Molly – a virtual reality avatar – is an example of the use of technology and internet-based interventions that support behavioral health recovery yet does not require the use of a smartphone app or telehealth services. Molly also offers organizations like Thresholds sustainability, as it is a low-cost implementation into the existing IPS framework. 
The principal investigator for the study is Dr. Matthew Smith, Professor of Social Work at the University of Michigan. This study was funded by the National Insitute of Mental Health (NIMH), the lead federal agency for research on mental disorders.  
Read the full study here.