Thresholds' Statement on 2018 Midterm Elections Results
On November 6th, Illinoisans joined voters around the country in casting their ballots for elected officials to represent them at the federal, state, and local levels. Voter turn-out in many parts of our state was at a record high. Thank you to all the Thresholds advocates who took time to cast your vote and make your voice heard!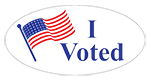 We congratulate last night's winners, both returning and newly-elected. Incoming elected officials will be sworn into office in January. As they are seated, we welcome the opportunity to partner with federal and state policymakers across the political spectrum to advance meaningful changes to mental health and substance use treatment policies and systems.
We are encouraged by Governor-elect Pritzker's focus on mental health, universal healthcare coverage, and identifying new sources of revenue. Balancing Illinois' budget and sustainably funding healthcare, human services, and other critical supports necessary for ensuring that all Illinoisans have what they need to live well and thrive must be a top priority for the new Governor and his Administration.
In spite of challenging and complex political and budgetary dynamics in recent years, together, we have made important strides on expanding access to early treatment, improving rates to grow services, and maintaining health coverage and consumer protections for those living with mental health and substance use conditions. In this next chapter, we look forward to continuing to work with our existing champions as well as the chance to cultivate new allies in the ongoing effort to preserve the Affordable Care Act, protect Medicaid, and strengthen access to mental health and substance use treatment.
An overview of election results can be found here.