Thresholds' Statement in Response to President Biden's Strategy to Address Our National Mental Health Crisis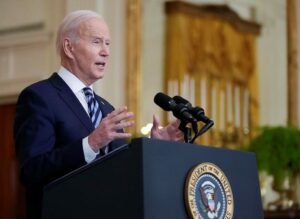 President Joe Biden released a bold vision for a national mental health strategy, which he mentioned during his State of the Union speech last night. We stand with the President of the United States, Members of Congress, and advocates across our state and country to make sure President Biden's plan becomes a reality.
His plan underscores that our country is facing an unprecedented mental health crisis. Accessing care before the pandemic was already out of reach for most Americans, with less than half of people of any age who need treatment able to get it. The average delay from the onset of mental health symptoms to treatment is 11 years. Black and Brown communities are disproportionately undertreated, despite the rising rates of mental health conditions in these communities.
The disruptions caused by COVID led to tremendous economic uncertainty, social isolation, anxiety, depression, and learning loss for youth. In 2019, a third of high school students, and half of female students, reported feelings of sadness or hopelessness.
The President's plan makes clear that the time for action is now. We can wait no longer to invest in the mental wellness of our youth and all Americans.
A few of the highlights of Biden's national strategy are:
Deep investments in student loan repayment programs for mental health and substance use clinicians
Increased funding for fellowship programs for people of color
Pilot programs to train community health workers
Development of a national certification for peer specialists
Making the "Certified Community Behavioral Health Clinic" (CCBHC) pilot permanent
Research on new practice models
Addressing many of the harms to the mental well-being of young people caused by social media
We are extremely heartened by President Biden's plan and major proposed investment in the behavioral health care workforce and expansion of services. We are equally bolstered by the fact that Illinois features such advocacy around the importance of mental health. Governor J.B. Pritzker, House Majority Leader Greg Harris, Senator Elgie Sims, and the General Assembly should also be congratulated for their recent efforts on behalf of increased funding for mental health and substance use treatment. Strong leadership and vision, as well as implementation, is what America and our state need to tackle our mental health crisis head on.
Posted In: News