Thresholds Statement on Governor Pritzker's Budget Address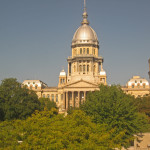 In yesterday's budget address, Thresholds was thrilled to hear Governor Pritzker double down on the state's investment in mental health and substance use treatment. The Governor proposed increasing state funding for treatment by $40 million. His continued commitment to rebuild Illinois' mental health and substance use treatment system after a devastating budget impasse and decades of neglect is both encouraging and exciting.
Making mental health a top priority in schools, the Governor will seek federal funding to establish a school violence prevention tip line, called Safe2Help Illinois, modeled after a program in Colorado. His administration is also committing to developing a school curriculum to combat stigma and silence surrounding mental health. We strongly support knocking down the barriers of stigma so conditions can be treated at the first warning signs, just as we would any other medical condition.
"Any individual who is experiencing a mental health or substance use condition deserves access to treatment at the earliest sign of a problem," says Mark Ishaug, Thresholds CEO. "Research shows this is the best way to prevent a lifetime of illness. We are excited that the Pritzker administration is taking steps toward making this a reality."
The Governor spoke of optimism and hope for our state, with committed action towards greater fiscal stability and continuing to build on the steady progress made over the last year.
The Governor stated that Illinois' fiscal challenges are serious but not insurmountable. They do, however, require additional revenue. The Governor reiterated that passage of the Fair Tax on the November ballot is necessary to funding these and other important initiatives related to healthcare, human services and education. The Fair Tax will allow Illinois to move from a flat tax to a graduated tax where low- and moderate-income individuals are taxed at lower rate than higher-income earners. The Fair Tax would begin to close the state's structural deficit by generating over $3 billion in additional revenue while resulting in a tax cut or no change in tax liability for 97 percent of Illinoisans.
We share the Governor's hope and optimism in Illinois' bright future and welcome partnership with his administration and the General Assembly to pass a state budget that increases investment in the services Illinoisans deserve, while also putting the state on the path to fiscal stability.