Spotlight: Our North Suburbs Team
As thousands of Thresholds staff work hard to continue supporting our clients while protecting both themselves and those we work with, we wanted to spotlight just one instance of our staff's dedication in the face of this pandemic.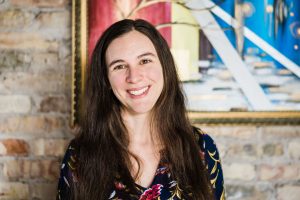 Last month, a client in a Thresholds residence in the North Suburbs exhibited symptoms of COVID-19. They were tested and placed in an isolation room at a local hospital while they waited to hear their test results (which, fortunately, turned out to be negative). The local health department put residents of the group home and staff who had worked shifts there under self-quarantine. Clients could not leave the group home and Alecia Riccio, the Team Leader of that residence, was told that she was only allowed to leave her house to travel directly to the Thresholds group home. No other staff were permitted to go to the residence due to the risk of infection.
During the self-quarantine period, Alecia was at the Thresholds residence more than 8 hours a day, every day – handling medication monitoring, providing emotional support for clients who were quarantined, facilitating meals, planning activities to replace missed community involvement, and doing anything else needed to support our clients.
Because Alecia and her staff couldn't deliver services to other residential program clients, North Suburbs Program Director Amanda Billings and Assistant Program Director Sarah Hire took on this work themselves and client care continued across the program without interruption.
We are so grateful to Alecia for her extraordinary efforts, and to Amanda, Sarah and the whole North Suburbs team for making sure our clients continued to get the support they needed in these unusual conditions, while still following health department guidelines and preventing the spread of COVID-19 in our community. Thank you for all that you do!​
Posted In: News