Thresholds Supports New Coronavirus Mental Health Crisis Hotline
Thresholds is now doing even more to support Illinois residents as one of 62 mental health providers taking part in the newly-announced "Call4Calm" program.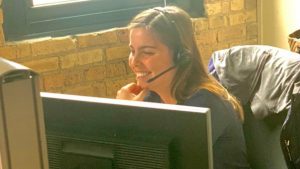 Call4Calm offers Illinois residents a new avenue to speak to mental health professionals free of charge during the current pandemic. Illinois residents wanting to speak to a mental health care professional can text the word "TALK" to 552020 (or "HABLAR" to 552020 for Spanish). They will receive a follow-up text asking for their first name and zip code, and the information will be used to connect them with a health care professional in their area. Residents who text the hotline will get a call from a licensed counselor within 24 hours.
In addition, the phone number can be used to seek help and guidance on other critical issues during the pandemic. Residents can text keywords like "unemployment," "food," or "shelter," according to the governor's office, and they will receive additional information in response.
In a recent interview​ with Block Club Chicago,Thresholds's Chief Clinical Officer Debbie Pavick offered further information about the hotline and why it is necessary.
"Taking care of your mental health during this pandemic is vital, and for those who lost their jobs, the stress can become overwhelming. There are people who are experiencing all types of issues — cut in pay, maybe no income coming in, kids out of school, people who are afraid, people who are angry."
Pavik said the state vets the calls, sending people with more immediate emergencies like suicidal thoughts to a suicide hotline. The rest get sent to the dozens of providers working to support the program. Which group gets which inquiry is based on the zip code of the person who contacted them, but Thresholds has 7 full-time employees qualified to assist with Call4Calm's workload.
"We're all dealing with a new situation," Illinois Governor JB Pritzker said during his announcement of the program on April 11. "It's OK to feel. And please know that you don't have to feel it all alone. I want you to know we're here to help."