Thresholds Statement on Racial Injustice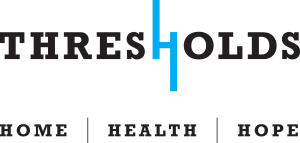 In our work at Thresholds, every day, we are deeply committed to listening – to hearing our clients as they express anger, sadness, injustice, deep oppression and pain and alienation and fear. We know this is a critical component of beginning the process of recovery.
We are listening and hearing the deep pain of racism being expressed all over our country. And we are listening to the pain in our city right now as we confront not just the anger of the day, but decades of injustice, lack of opportunities and disinvestment. We are crying out alongside those who are out protesting in the streets and those who are protesting wherever they are.
We are acting with urgency. We are committed to demanding justice. We are outraged about the pain that our African American coworkers, clients, and community members suffer every single day at the hands of individual and structural racism. We will fight to dismantle the systems that create police violence, deep inequality in access to mental and physical healthcare, inadequate access to affordable housing and food, and a lived experience for our African American brothers and sisters that is unacceptable in America and in our communities.
We are listening deeply. We are speaking out loudly. And we are acting with urgency.