Thresholds Statement on Governor Pritzker's State of the State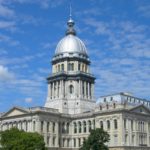 In his State of the State address yesterday, Governor JB Pritzker highlighted many of the major accomplishments of his first year in office. These included passing a balanced budget that significantly increased funding for mental health and substance use treatment, raising the minimum wage to put workers on more solid economic ground, a commitment to diversity and inclusion for all communities, the legalization of adult-use cannabis, and a second chance for people convicted of low-level cannabis infractions.
The Governor emphasized that a state budget is a moral document that reveals Illinois' priorities. Thresholds applauds his continued dedication to rebuilding the health and human services sector, which has been drastically underfunded for decades. He also spoke about his continued commitment to addressing the opioid crisis, which we strongly support.
The Governor's address also covered the importance of the passage of the Fair Tax legislation, which allows Illinoisans to vote for a state tax structure that taxes middle- and lower-income individuals at a lower rate than higher income individuals to help address the state's chronic budget shortfalls. The Administration has stressed that passage of the Fair Tax by Illinois voters in the November election is crucially important to alleviate Illinois' fiscal challenges and fund essential public services our communities need and deserve.
We were excited to hear that a major priority for the upcoming year will be criminal justice reform based on recommendations from a bi-partisan commission. Given that well over half of the criminal justice population in Illinois has an untreated mental health or substance use condition, we hope this effort will include growing treatment capacity to divert individuals from jails and prisons and into treatment instead. Criminal justice reform will not be successful without this investment.
We are encouraged by the energy, optimism and commitment of the Pritzker Administration, as well as the General Assembly, to seriously tackle Illinois' long-standing mental health crisis and the opioid epidemic. Illinois took some major steps forward over the last year and we look forward to working together with the Administration to continue to walk down the path of reform together.