Why I Love Thresholds: Scarleth Lever-Ortiz

It's February, the month when people want to express who and what they love. This year, our supporters shared with us "Why I Love Thresholds", their personal stories of what helping to further our mission means to them. Here's Scarleth Lever-Ortiz , a Threshold Board Member and the Director of the Office of Diversity & Inclusion at the Chicago Housing Authority, sharing what our work means to her:
---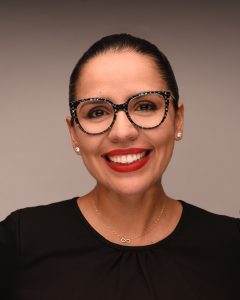 As an urban planner, I understand the importance of providing integrated services to help the most vulnerable populations thrive. When I listen to testimonials from Thresholds clients, I am brought to tears because I know that thousands of lives every year, for over 60 years straight, have been positively impacted and transformed by this organization.
Thresholds serves diverse populations that include youth and young adults, veterans, young mothers, deaf and hard-of-hearing people, and individuals experiencing homelessness, among other underserved communities.
As an immigrant from Mexico City, it is particularly important for me to highlight and support the work of Thresholds, especially around mitigating mental illness and addiction stigma among immigrant communities. The Latinx community shows similar vulnerabilities to mental illness as the general population, yet we experience disparities in access and in the quality of treatment we receive. This community also faces a number of barriers to effective healthcare, such as misinformation about mental illnesses, a shortage of bilingual providers, a lack of health insurance, legal status, stigma and secrecy. Thresholds' advocacy efforts aim to mitigate these barriers and there is an undeniable commitment to provide care for everyone who needs it.
As the leading trauma-informed organization, Thresholds continues to innovate and help a resilient, and often misunderstood, population. I have seen first-hand Threshold's approach of leading with love and empathy by all the staff and volunteers of this organization whom I have privilege to call my friends. Thresholds' nurturing culture has placed them as a Chicago Tribune Top Workplace for 6 consecutive years! Thresholds not only serves its clients with dignity and respect, but it also honors its workforce and leads by example, having been named a Chicago Tribune Top Workplace for six years straight.
The success stories of Thresholds clients, accounting for more than 500,000 hours of care in 2019 alone, are a testament of how important it is to provide a safe home and integrated primary and behavioral health services for a hopeful future. Therefore, I invite you to join me in supporting this one-of-a-kind organization by becoming a donor, following and sharing Thresholds on social media, attending Thresholds events, and supporting our legislative advocacy work. You will love it and feel right at home every time you join us!
---
Join Scarleth and the many other people working to help Thresholds succeed by making a gift or small monthly donation today!
Posted In: News