Meet Thresholds' Veterans Project Program Director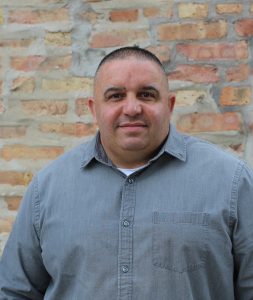 Fernando Valles began his journey at Thresholds on December 2010 when he joined the Veterans Project as a Community Support Specialist. Thresholds' Veterans Project Program helps veterans cope with mental illness and/or other conditions such as homelessness and unemployment.
Fernando is a licensed professional counselor, and served 12 years in the U.S Navy Corpsman Fleet Marine Force during the OEF/OIF and  Iraq/Afghanistan Era. A veteran himself, Fernando wanted to continue to serve by assisting other veterans in the Chicago community.
Fernando now serves as the Program Director of Thresholds' Veterans Project, leading his team to serve veterans through community events, counseling, and more.
Q & A with Fernando Valles | Veterans Project
Q: What brought you to Thresholds? 
A: I liked the opportunity to work with the veteran community and the chance to keep serving my country in a different way.
Q: Why did you decide to be part of the Veterans Project?
A: The idea of working with other veterans was very interesting to me.  I was committed to serve veterans 100 percent.
Q: What do you enjoy the most about your work?
A:  I enjoy the connections and the partnerships I have been able to create with the city of Chicago. I think this a crucial step to improve our services and provide our veterans with multiple options.
Q: What inspires you?
A: Our client success stories inspire me. Most of our clients come to our program at their lowest point, so seeing them grow with the program while taking part in their journey is very inspirational to me.
Q: What does community mean to you?
A: Community to me is the opportunity to bring people together through common thoughts, feelings and struggles while sharing the same set of goals and aspirations.
Q: What do you hope for the future of the Veterans Project? 
A: My hope is to keep serving more and more veteran families for years to come!
About Thresholds' Veterans Project: Thresholds works with Chicago's most at-risk populations. Integrating our evidence-based practices and strategic partnerships, the Veterans Project assists veterans through homeless outreach, housing services, supported employment, peer-driven supports, substance use treatment, integrated physical and mental health services, and trauma-based therapies.